Click Here to Return to Testimonials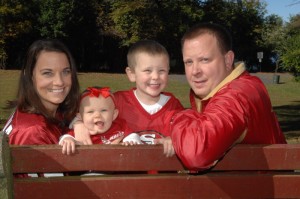 I have had back pain on and off again for the last twenty years. I have been to many doctors for cortisone shots, pulse therapy and many other treatments because the cause could not be identified. I went to other chiropractors but I felt like a robot being put on the table treated the same way each time with no positive results. Then three years ago my husband developed severe back pain from moving heavy equipment and needed to see a specialist. Dr. Gary Stewart was recommended for him and with consultations and rigorous adjusting he slowly began to feel better. He told me Dr. Gary's approach was different from everyone else because he was so concerned with my husband's well-being and future health instead of just fixing the problem that day. He told my husband it would be a long journey but he would begin to feel better after a few visits.
After a few months of adjustments I could see the improvement in my husband and it was amazing. There were no more nights of horrendous pain. He was active with my son again and just felt happier. I decided to give it a try for myself as well as my two-year-old son, Hunter. We had a great deal of problems with my son with ear infections when he was first born. In his first year of life he had nine infections that would occur one after the other. Hunter would be put on medication for two weeks and then it would become irritated again. Then he would have to be put on a stronger medication for another two weeks. And so the ritual was repeated throughout the winter. Dr. Gary said that if Hunter was adjusted at a young age then he would improve his overall health and his body would be in alignment. I was willing to participate in the program in order for both of us to be well.
As time progressed, I saw a difference in Hunter immediately. The following year he only received one ear infection because of congestion, but then he did not develop a single cold for the rest of the winter. I was amazed. In turn, I also began to feel better and no longer had lingering backaches. When I was pregnant with my son I had a lot of trouble walking without pain and became very stiff at night when trying to sleep. The extra weight made me feel very uncomfortable. I was also feeling very sick and tired during my first trimester. So when I became pregnant the second time, Dr. Gary recommended that I get adjusted more often. Throughout my entire pregnancy I was not in any pain. I had a great deal of energy and did not show any signs of sickness. I felt good up until delivery. I actually enjoyed being pregnant!
Last year, Hunter received not one ear infection, just a few runny noses, which is expected during the change in weather. He has continued to improve his health and today we have yet to see any signs of colds or ear infections to date. My daughter Londyn, now 11 months old, has been adjusted since she was two weeks old. She was 6.5 weeks premature and weighed only four pounds. She has made great strides this year and only came down with a cold at two months old, with no sign of an infection. Since then she has not had one ear ache and has not been on any medication. She is a sure sign that adjustments from day one will drastically improve your overall wellness and can set you on the right path for a healthy lifestyle. I see the positive signs through my children and I am a believer!!
Dr. Gary treats each patient like family and his approach is more homeopathic. He never adjusts you the same way twice because he is careful when observing your body so he can locate the problem that particular week. Others I have been to seem to place you on the table, crack your back and then send you on your way. I do not feel that way in Dr. Gary's office. He cares deeply for each patient and my children can't wait to get adjusted each week. As a family we are thankful that we found Dr. Gary's office and we know we are in good hands.
Amanda Magna